EAST MIDLANDS charity, Star Trust, has awarded vital money to a Lincolnshire charity which delivers life-saving medical provisions between NHS hospitals.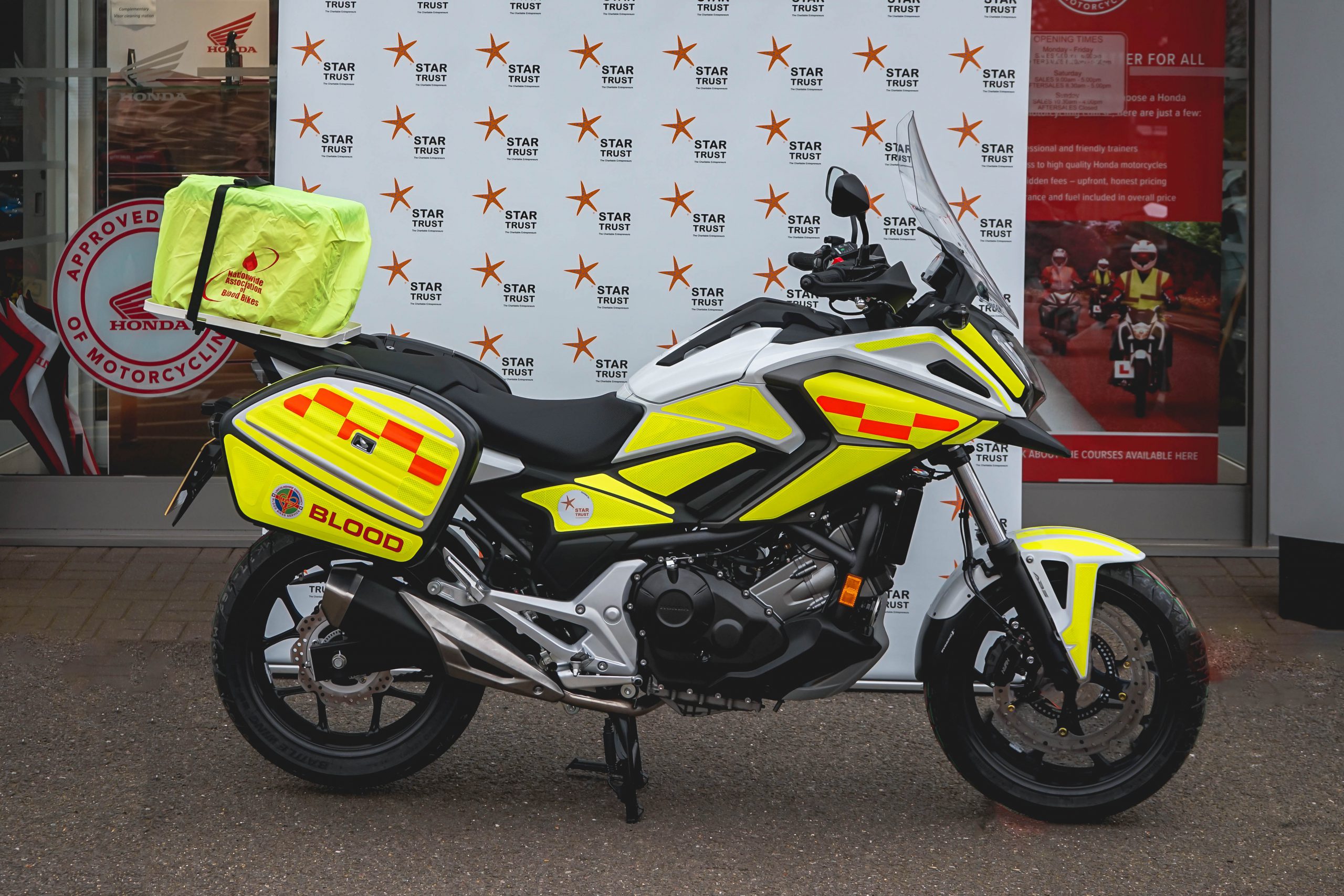 Lincolnshire Emergency Blood Bikes Service (LEBBS) offers free transport of blood, drugs and human tissue between NHS hospitals and blood transfusion banks free of charge.
The service, which is run 'out of hours', has been operational since April 2013.
LEBBS applied for £9,850 funding from the Star Trust – a charity itself, raising money for small to medium-sized charities across the East Midlands – for the purchase of a fully equipped brand-new Honda motorcycle supplied by Vertu Honda Motorcycles from Grantham.
Wendy Hunsley, fundraising and events co-ordinator for LEBBS, said: "We are privileged to receive the donation of a new Honda motorcycle from the Star Trust which will improve our ageing fleet and continues to maintain our professional image.
"The new bike means our fleet will have more time on the road delivering vital items for the NHS rather than being in the garage for repair.
"This will enable us to remain reliable and help us continue to provide our service to the NHS. It will also help our running costs because we will be providing a more economical service due to the new bike.
"This money is so important as we are all volunteers and rely on donations to provide our service."
The volunteers for LEBBS transport blood, plasma, platelets, patient samples, X-rays, pharmaceutical products and medical notes as well as donor breast milk and other important supplies between hospitals.
The team uses a fleet of motorcycles to transport the medical provisions in order to save the NHS funds that would otherwise be spent on taxis or a courier service.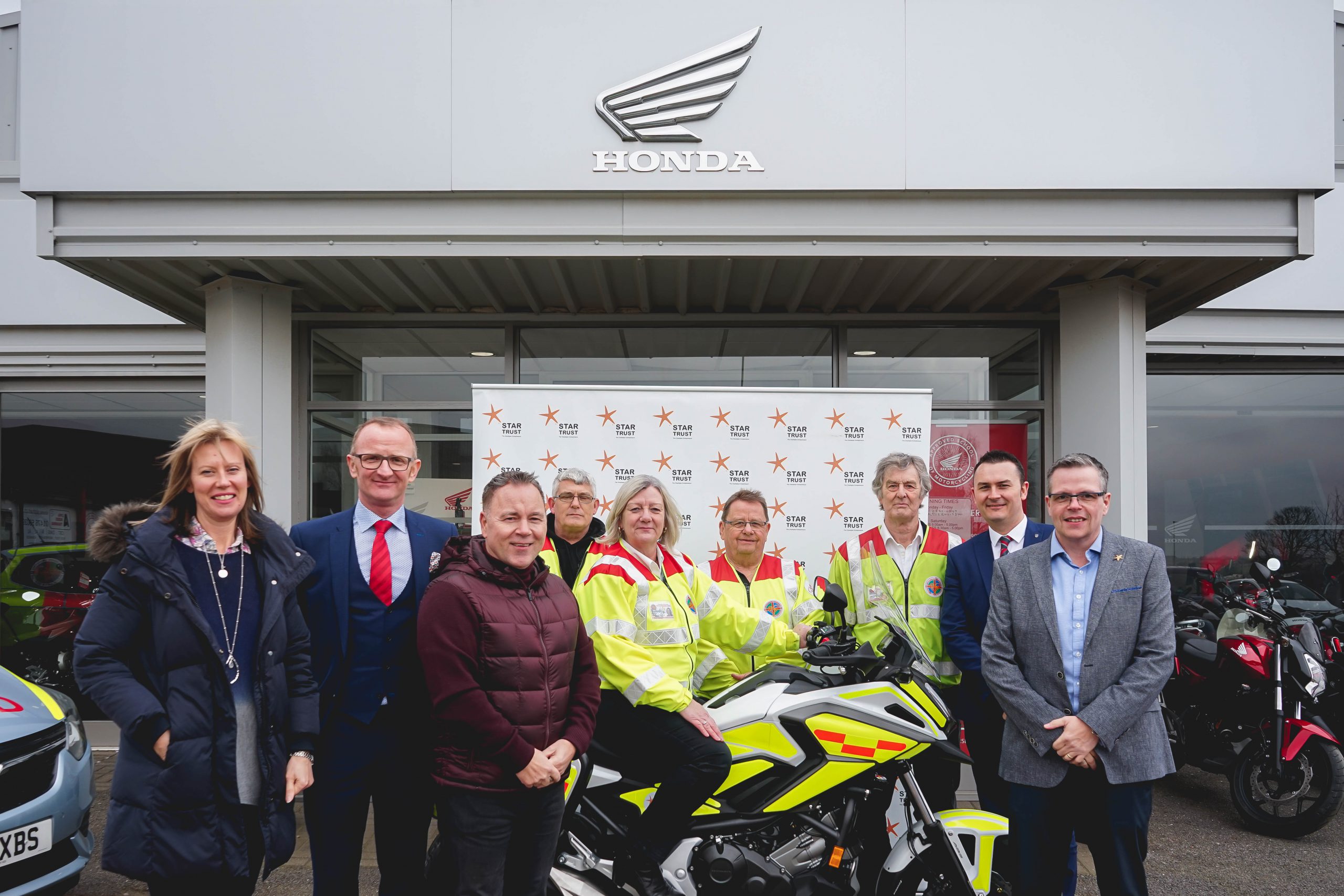 Mrs Hunsley added: "We average approximately 15 calls each weekend from hospitals but this is increasing as more departments of the NHS begin to use us for their urgent transportation needs.
"Our coverage area incorporates Lincolnshire which includes six major hospitals as well four community hospitals who can call on us at a moment's notice."
The charity's latest initiative sees the volunteers transport blood from Lincoln County Hospital to the Lincolnshire and Nottinghamshire Air Ambulance (LNAA) base at RAF Waddington daily to be used at the scene of emergencies.
Due to the team working entirely off donations, the money from the Star Trust for a new motorbike is essential in keeping the charity running smoothly.
To date the Star Trust has donated close to £700,000 to 75 different charities across the region.
Steve Hampson, who heads the Star Trust, said: "As an East Midlands charity with East Midlands committee members and patrons, we endeavour to support grass roots charity organisations which wouldn't normally receive the grants they need to support their endeavours and often do not get the recognition and awareness they so desperately need.
"This is where the Star Trust comes in. We are here to fundraise organising unique events supported by very generous guests and taking the funds raised to pump cash into needy organisations which are doing fantastic work across the East Midlands.
"The work Lincolnshire Emergency Blood Bikes Service is doing is vital and it is saving people's lives every day and it's our first motorcycle donation.
"We are very appreciative of the support and assistance given by Chris Taylor and his wonderful team at Vertu Honda Motorcycles Grantham who supplied the bike and fitted the specialist equipment required."
The Star Trust has been running for more than seven years, regenerating every penny raised into financial aid for small to medium-sized charities in the East Midlands. The Star Trust was founded in 2013 and currently has 12 dedicated committee members.