Nether Hall School can now expand its outdoor play area with a specialist swing for wheelchair use, thanks to £5,000 start from Star Trust.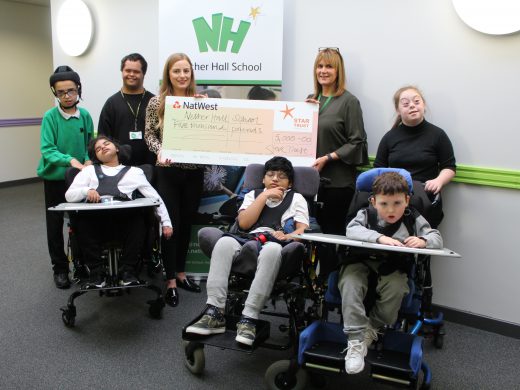 Nether Hall School in Leicester-first opened almost 50-years ago and provides a specialist environment for 99 students aged four to 19 with learning difficulties ranging from severe to profound and multiple, including autism and epilepsy.
Currently the school contains specialist classrooms, sensory rooms, a music room, indoor soft play areas as well as an indoor hydrotherapy pool. The £5,000 will help the school to develop its outdoor facilities and support wheelchair users who will be able to enjoy the experience of a swing.
Sarah Naylor, Head Teacher from Nether Hall School said: "We were absolutely thrilled to hear the news that the Start Trust Charity is providing the funding for us to have a wheelchair swing in our school playground. School budgets are very tight and this fantastic additional resource for our pupils simply would not have been possible without the support and generosity of the Trust. Many thanks on behalf of us all at Nether Hall School".
Nether Hall is funded by the local authority and its dedicated team of nearly 100 members of staff provides high quality learning support and care on a daily basis.
The school follows aspects of the national curriculum but a large proportion of time is dedicated to teaching the students life skills which is considered to be highly vital for those who attend Nether Hall. The school is committed to providing a lovely environment for its young people and the swing would be a welcoming addition.
The Star Trust together delivers high profile events having donated over £500,000 to 44 different East Midlands based charities in the last four years. Star Trust does not take any form of expense or remuneration, leaving every penny raised to aid these charities https://www.star-trust.org.uk/.
Star Trust board members Liz Cartwright, managing director of Cartwright Communications, and Torie Blythe Richards, founder and director of The Partnership Lifestyle Club, handed over the donation to the school along with Charlotte Menhennet of Answer4U which sponsors the Star Trust.
Charlotte said: "We are delighted to hand over this cheque to the school which is an amazing facility for so many Leicester and Leicestershire children. This new swing will provide so much enjoyment for wheelchair users at the school and we are proud to have been able to hand over this donation."